I
recently wrote an entry about the Oly E-410 and mentioned that it was
(and I actually think still is)
the world's smallest DSLR. After one year
(from the E-410's initial debut, not my entry)
Olympus has seen fit to announce an upgrade. Say hello to the E-420.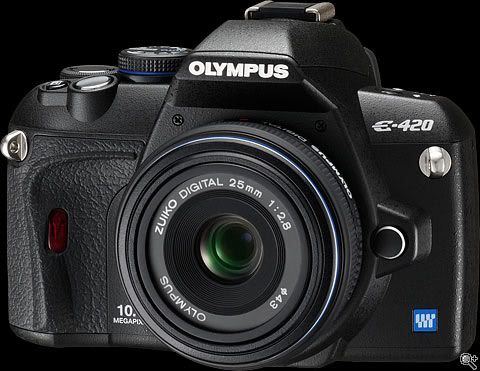 photo from dpreview


T
echnically, as far as measurement specs go, all the cameras in the 400 line from Olympus fits the bill. They all measure the same, each measuring 130 x 91 x 53 mm
(5.1 x 3.6 x 2.1 in) however the E-420 weighs in slightly heavier than its predecessor at 440grams, battery included compared to the 435grams that the E-410 weighs in at. While it might not exactly win the world's smallest title from it's older brother, it does have several points over the 410.


F

or starters, the E-420 possesses a bigger LCD which also incorporates hypercrystal II technology, allowing for a greater angle

(176 degrees)

of view in more lighting conditions than before. As far as early reviews / articles go, it would also seem that the 420 is capable of quicker autofocus while on live-view mode compared to all the Oly DSLRs that had the same function before now. Added to that their incorporation of new face-detection technology which will make this camera more idiot-proof than before

(pardon my French)

. As a little highlight, another difference would be the "Fn" label to the four-way navigation button's left button.



I

n conjunction with with Olympus' announcement that the 420 is the world's smallest digital SLR, they're also announcing a new Zuiko digital lens,
the ultra compact Zuiko 25mm f2.8 digital specific lens. If you equip your E-420
(or the 410 for that matter)
with this 0.9 inch thick wonder, you'd really be sporting the smallest DSLR.
W
hile this recent announcement technically makes this the newest SLR from Olympus, it doesn't automatically make it a cheap camera. Without a lens, the E-420 will cost you a little under $500. However, with the recent announcement, it would seem that prices for the older models are dropping
(as is with any advancement)
so if you're looking to get a small DSLR and won't mind craning your neck just a little bit more, or the slower autofocus function in live-mode, and the lack of face detection technology
(you've got eyes to detect faces on your own, don't you?
), then the E-410 might still be a viable option. You might want to splurge on the 25mm Zuiko lens when it comes out at the corner store near you though. :)
I think I'll wait til they come out with an E-520. Hahaha.